I work with UX design, collaborative media making & metafictional storytelling, such as:
︎︎︎
a documentary film that considers the emerging entrepreneurial culture in Brazil through the story of Angelo Tupinambá, a community organizer in Belém do Pará who coordinates a web-based radio station called Idade Mídia - Comunicação para Cidadania.
an interactive diagram and hypothetical simulation model of the Brazilian public sphere.
LATIN AMERICAN CENTERED SPECULATIVE DESIGN
LACES(D) was an open conference held at the Visual Arts Department of the University of California, San Diego, in April 2018. The conference was composed of a lecture, an expert meeting and a mediated panel that seeked, as a whole, to reflect about Speculative Design as an area of knowledge, political practice and art. LACES(D) focused on the public debate and the construction of a diagram of contemporary critical issues and its unfoldings in the fields of Media, Architecture, and Art.
Considering the process of the first year review as a ritual of the Master of Fine Arts Graduate Program at UC San Diego, where a committee is mobilized around an art project to produce a critique that is inscribed to a personal context, LACES(D) acted as generative platform that inverted this process. Moving away from placing material objects in a gallery as a creation of contemplation, we hoped to use the structure already in place (university, committee, community) to generate a research agenda that could serve as a conceptual armature for future projects and collective action.
The conference, therefore, was a site of intervention to mobilize an agenda as a material prompt around the issues of colonialism, the industrial military complex and tactical communication against the neofascist wave in Latin America.

"At a time when I see, again, across campus, an almost obsessive optimism about a future dominated by "driverless cars", by Amazon and the endless potential for distributive exchange economies and beyond, nobody is talking about public agendas. I'm saying this because, eventually I would like to reorient the idea that, yes, let's pixalate Speculative Design with Latin America.
– Teddy Cruz, architect and full professor at UC San Diego Visual Arts Department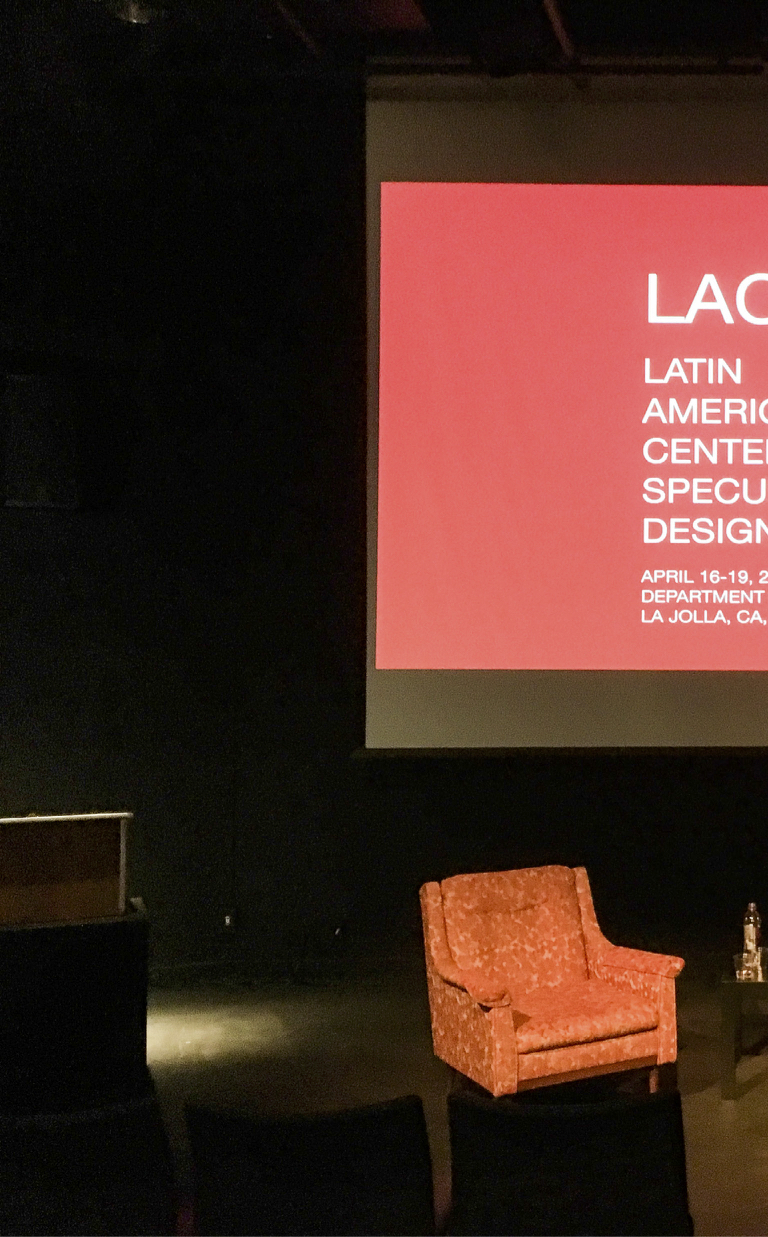 EVENTO DO FACEBOOK
Evento do Facebook (Facebook Event) is a live expanded cinema installation on the use of social media. Conveying live-captured footage with pre-recorded scenes, the film explores an experimental setting of live action theater and live-cinema. The audience is brought into the stage where Alex's room, a middle class university student, is situated next to a screen. Both spaces coexist in and out of the plot through two points of view: from the perspective of the image produced by a camera held by a cinematographer that explores the scene in the stage and the stage itself.

This project was launched in 2014 as my bachelor honors thesis while part of the Media Studies program at the State University of Campinas. Soon it had the collaboration of more than 50 student and guest artists. The following year, the project was awarded the Student-Artist Grant from the University as an community outreach program to be presented in the region.


"I kept thinking about us, how we were together. How we should actually be. I think in the end I forgot to actually be anything"
–– Alex, main character.